As I sit and write this blog at 9pm on Friday night I find myself with a sort of boyish Christmas Eve type excitement. I know that I should probably be be a bit more downbeat following the drubbing at Anfield but I'm actually quite excited.
The thought of sharing a few drinks and discussing the Hammers news with my friends before heading into the ground is something I've missed. The World Cup was decent enough and I certainly feel like a break from West Ham was necessary following last seasons awful showing, but there is something special about a Saturday 3pm home fixture.
Yes our defending was terrible against Liverpool and we could barely muster an attack in response but I'll still get that tingling of anticipation as I approach the turnstiles. I didn't travel to Liverpool for the first game (lucky me) and although I did catch the pre-season friendly a Wycombe I'm eager to see Pellegrini's team in action.
I'd expect Anderson, Yarmolenko, Fredricks and Wilshere to start and I'm quite sure that our new manager is savvy enough to have corrected much of was was wrong a week ago. Make no mistake about it, Eddie Howe will use Liverpool's destruction of our back-line as a blueprint against us. However Bournemouth are no Liverpool and we are not going to be restricted to only two efforts on goal in this match.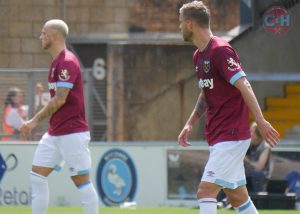 With that in mind I expect to see much more from our attacking players against Bournemouth and certainly a goal or two so I'll be traveling up with a spring in my step.
Forget last Saturday, our season starts here and we should begin to see Mr Pellegrini's stamp on the team and his modus operandi has always been to attack.
So I'll dust off my train pass, repeatedly click 'refresh' on my phone at 2pm for team news, have a burger, knock back a drink and bounce into that stadium ready for a chorus of Bubbles and hopefully something resembling the West Ham Way.
COYI