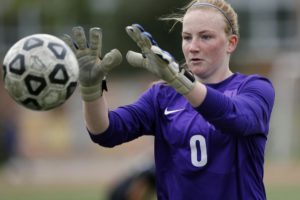 West Ham Women's squad have made another signing with this one being a young new Goalkeeper, and they are delighted.
Courtney Brosnan joined the club from the French side Le Havre, The 23 year old American girl has become the Women's side sixth signing this summer and will be wearing the No18 shirt.
"I'm really excited to join West Ham United," Brosnan told whufc.com. "It has always been a dream of mine, since I was young, to play in England. It's really exciting to now achieve that goal and getting the chance to be a part of everything that we can accomplish at West Ham."
Matt Beard is absolutely thrilled to have a talented goal stopper in the squad, the head coach believes that she could be in competition with current Goalkeeper Anna Moorhouse for the starting position.
Beard said: "We are delighted to welcome Courtney to our squad. She is a young, talented goalkeeper who I am looking forward to seeing continue to develop with us in the new season.
"In signing Courtney, I believe we now have two quality goalkeepers in our squad – along with Anna – who can push each other and develop into even better players throughout the campaign."
Courtney is originally from New Jersey, where she began her football career at Syracuse University in 2014, having been 91st womans football recruit in the country.
Brosnan made a total of 93 saves while with Syracuse Uni which is a record breaker.
She has played with Ireland internationals u17 and u19s, and had a call up for the American International squad, which is the highest ranked international squad due to statistics, for the u23 squad.
Brosnan also worked alongside fellow West Ham teammate now, Leanne Kiernan while playing for Ireland international team.