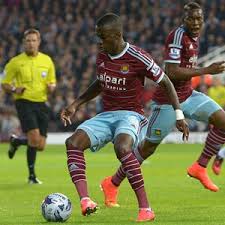 Enner Valencia has been ranked as one of the  top 10 goalscorers in world football in October in latest figures!
IFFHS. ranks the players  according to the number of goals  a player has scored for club and country in the past year.
The rankings currently put Valencia in 9th position in a list which includes Cristiano Ronaldo, Lionel Messi and Neymar.
Enner's rise has seen him pass Manchester United star Robin van Persie who is now in eleventh position.
Sunderland forward Asamoah Gyan tops the rankings with 18 goals and Ronaldo,  Neymar and Karim Benzema follow in second, third and fourth place with Thomas Muller, Lionel Messi, Kyaw Ko Ko, Juan Belencoso taking the next four positions with James Rodriguez in tenth.
The goals are based on intentional matches and games in club confederation competitions which puts . Valencia at a disadvantage because of West Ham's non participation in Europe and therefore his top 10 ranking has come through his goals for his country Ecuador.