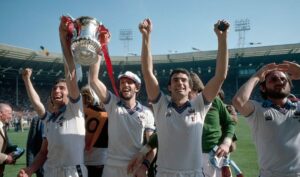 Former Hammer Tony Cotteee speaks to David Cross about the 1980 Fa Cup final
Cross signed for West Ham in December 1977 for a club-record fee of £180,000 pounds from West Brom. A week later he made his debut for the Hammers against his former club in a 1-0 defeat. At the time it seemed a strange signing for then-manager John Lyall as the Cross style was somewhat alien to what was considered the "West Ham way". The no-nonsense physical style and fearsome presence of David Cross was soon to earn him the nickname of "Psycho" from the West Ham faithful. Over the following five years he was to score 99 goals in 228 appearances for the club.
It came as a huge surprise for Psycho to be told just minutes before the FA Cup Final in 1980 that he was expected to play as a lone striker that day. It was a formation that was very unconventional to West Ham and quite unexpected. His normal striker partner Stuart Pearson was to play in a more reserved role in front of the midfield quartet. He later admitted to be shocked and somewhat disappointed at the request at the time, but he went on to play his heart out and admitted that John Lyall's tactical nous on the day had been pivotal in beating Arsenal 1-0 and winning the cup. Earlier that season Psycho had noticed that whenever he saw a pig in a field on the travels to an away game he would either score or the Hammers would win. It became an ongoing joke between him and physio Rob Jenkins and eventually, Rob bought Psycho a miniature silver pig for him as a good luck charm. Psycho carried the pig in his hand for the full 90 minutes of the FA Cup Final.
Cross will be talking to BBC Radio 5 tomorrow at 9.45 am on the anniversary and Claret and Hugh will also be catching up with him for an exclusive interview tomorrow morning.
Watch the full TC and David Cross interview below: