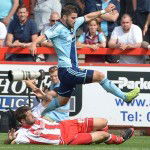 Last night I was at  Kingfield Stadium in Surrey to watch a West Ham United XI take on Woking FC in a pre season friendly.
I was there to see Elliot Lee, knowing he had already managed six goals – three doubles in his pre season campaign – and I must say he didn't disappoint for my £8 entrance fee.
The Irons Development team worked hard all night and deserved the 3-2 win but the star of the show was undoubtedly Elliot.
We were  two nil up after 18 minutes. Lee's first on 14 minutes came from  a mistake from their goal keeper Howe and the second came on 18 minutes from an assist from Blair Turgott who also had a great game
The game went a bit stale after that until Woking equalised in the 82nd minute after Woking  Trialist Dean Morgan  two in two minutes. Step forward the man of the hour Elliot Lee in 89th minute with a solo effort to get his hat trick and ninth goal of the pre season.
You can see the goal and his hat trick celebration on the video below. 
I must say Ellior Lee reminds me of a young Tony Cottee. He knows where the goal is and his confidence is sky high. Sure it is a massive jump to the Premier League but what have we got to lose?
He could ne just the surprise striker we are looking for instead of spending tens of thousands per week on a has been. Give the kid a chance in the first team and lets see what he can do!
Full Highlights