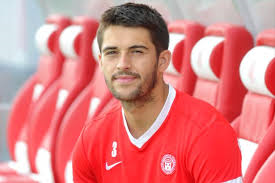 Hamliton Vice Chairman Ronnie MacDonald has called West Ham shambolic for their handling of a £2m plus deal for Stephen Hendrie.
He told the Daily Express "We had agreed terms with Crystal Palace for Stephen to go there once the transfer window opened but unfortunately Neil Warnock lost his job so that fell away.But prior to that West Ham had expressed an interest so we then opened a dialogue with them, they made an offer which was acceptable and our representatives met with their representatives in London. The fee was agreed, Stephen agreed personal terms through his agent and they were meant to come up to our place on New Year's Day to sign off the deal and didn't appear.
"They then said they would up on the 4th but didn't appear so I just cancelled the deal.I'm getting phone calls from London saying they want to resurrect it but as fas as I'm concerned it's off. I'm presuming they have seen Stephen playing against Celtic when he did really well for a kid and changed their mind but I have not changed  my mind.I always like to deal woth add-ons and with add-ons the fee for Stephen wuld have been well in excess of £2million.
"We are sorry for the boy because he is not getting his big move.I think West Ham are shambolic and if that's how they carry on their business that's up to them, They should do things properly."