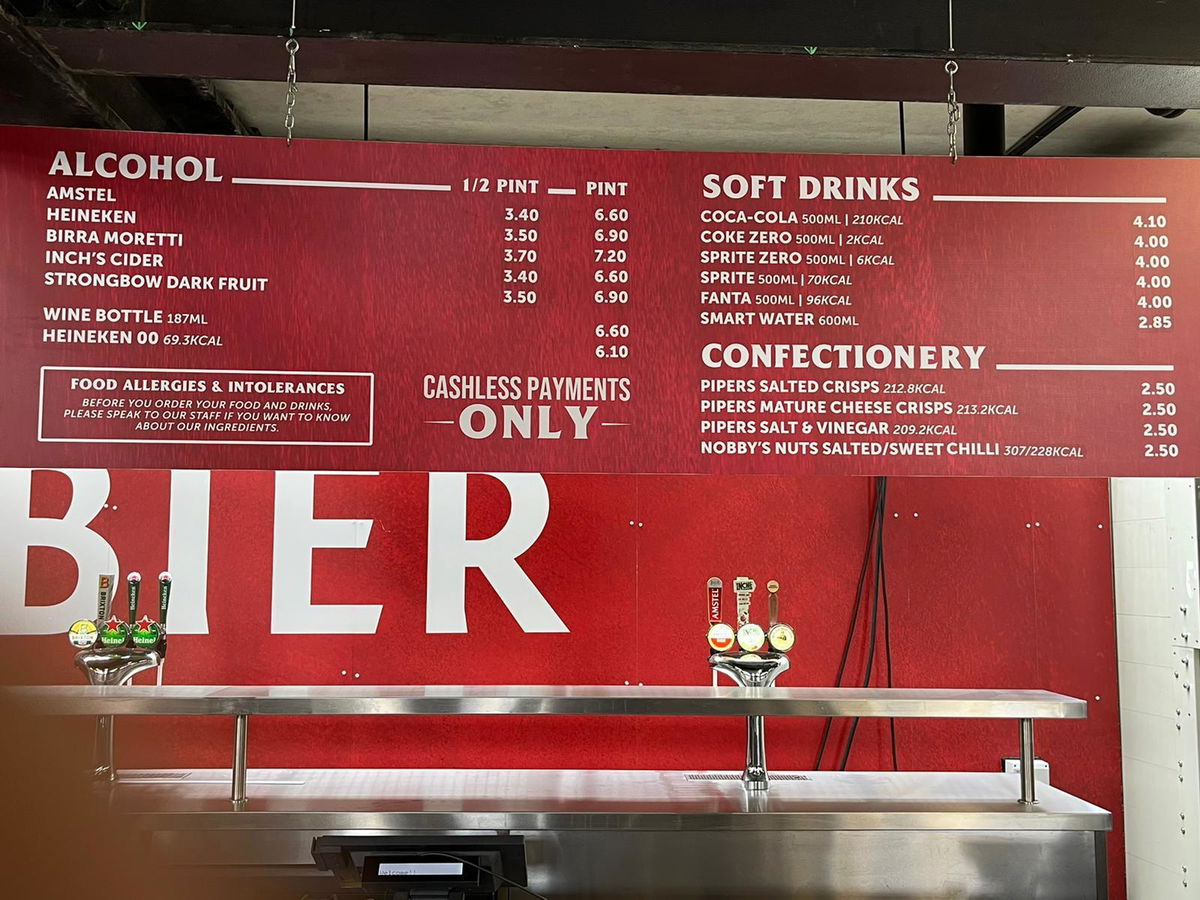 A West Ham United club spokesperson has told Claret and Hugh: 'West Ham United is a family football club, proud of our east London roots and devoted to our loyal supporters and local community. We are the home of affordable family football in London – our junior Season Tickets start from £99 meaning Under-18's can attend games for just over £5 per fixture. An adult and two children can attend Premier League fixtures at London Stadium for just over £26 per match. We have invested millions in the local community to ensure that our club is accessible to all.
'The food and beverage prices set by London Stadium and Delaware North are not in line with the Club's values or aspiration for the Stadium to be accessible to all and we will not rest until we reach a fair resolution for our supporters. When the club agreed the concession agreement, we ensured West Ham United supporters were protected in respect of concession pricing, so we ensured that the agreement included a clause that states that prices must not be greater than the mean average of equivalent prices charged at comparable London clubs. The current prices do not reflect that. We have tried very hard to encourage the stadium, E20 and LS185 to reduce the prices and make them in line with the terms of the agreement – so far they have refused to do this.
'Discussions are ongoing with London Stadium and Delaware North and we will continue to fight on behalf of our supporters to ensure the protections we put in place are honoured. We urge E20, LS185 and the London Mayor who has ultimate responsible for the stadium to agree to a positive resolution ahead of Sunday's Premier League fixture against Brighton & Hove Albion – we are asking for nothing more than the agreement entitles us to. If the club does not get a satisfactory resolution before then, it will immediately commence legal proceedings against London Stadium.'
Claret and Hugh say:
Well done West Ham in taking this stance on behalf of supporters!  What is the point of a legal contract if it is just ignored by one party for their convenience? The clause in question is very clear and not open for interpretation.
The comparable clubs' clause was inserted to protect fans against a greedy catering contractor.
Earlier this week the same catering firm announced losses of over £24m relating to COVID  and their Coventry Arena contract.
Our calculations suggest the cheapest beer should be priced at £5.75 per pint so at £6.60 for Amstel there is still another 85 pence reduction to come.
West Ham have a good record on legal challenges against the London Stadium owners E20 with the public losing pretty much all legal claims at the taxpayer's expense.
Maybe the London Mayor can step in and settle this case before LLDC spent millions more in legal fees defending a hopeless case.