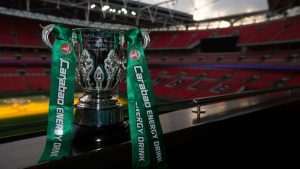 West Ham were drawn to play at home against Cheltenham Town in the EFL Carabao Cup draw last night.
As the London Stadium is still in athletics mode at the date the tie will be played the Hammers have given special dispensation by the EFL Board to play the fixture at the opposition's venue,
As agreed with EFL board in advance West Ham will give up their share of the gate receipts at Whaddon road which has a capacity of 7,200. Assuming a sellout and an average net profit of £15 per ticket West Ham will be giving out around £48,600 of ticket revenue at the reverse fixture.
Some could argue the club are also giving up a potential missed ticket revenue at the London Stadium by being forced to switch venues.
West Ham managed to get a record capacity 39,877 for the last EFL Cup game at the London Stadium when the Hammers took on Accrington Stanley last season. The opposition took just 800 away supporters while West Ham discounted tickets down to £5 for kids and from £10 for adults. They also gave away thousands of tickets to Newham residents as part of the giveaway agreement in the contract.
Assuming 5,000 tickets given away for free to Newham and an average net profit of £10 per ticket for the remaining 30,000 it means that the Hammers are missing out on around £135,000 of profit for the game being played at home.
EFL League Cup rules allow a minimum of 10% for away allocation so we could be restricted to 720 tickets but with an average gate of 3,275 last season, they could offer West Ham more tickets if there is demand.
A senior club insider told ClaretandHugh "This is the only year such a compromise is made in and in all other years our fixtures take priority. It was one of the concessions we knew we had to make to get the stadium."