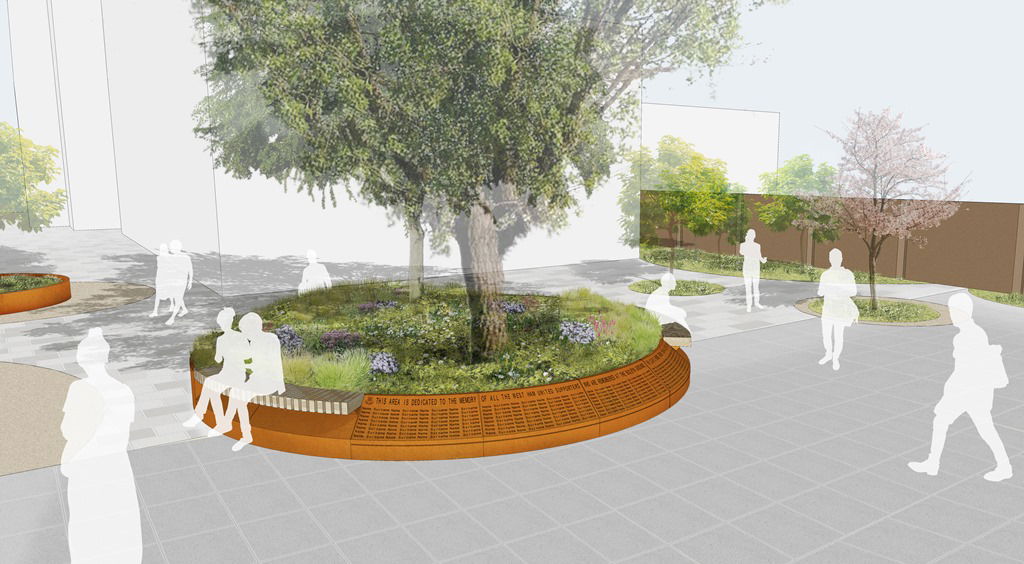 West Ham in conjunction with Barratt London and the families of those remembered have unveiled the latest proposed designs for the Memorial Garden, located on the site of the former Boleyn Ground, along with key milestones for the site throughout the rest of the year and beyond.
 The club says having carefully and respectfully considered all feedback from family members on the initial proposals for the Memorial Garden, the sketch above provides a feel of how the new Memorial Garden will look. The Club has worked closely with Barratt London on the design principles and considerations that have led to this point.
 As proposed previously, the Memorial will include a line of text dedicated to all loved ones remembered at the site: "This area is dedicated to the memory of all the West Ham United supporters who are remembered at the Boleyn Ground, the Club's home from 1904-2016." 
 The names of those remembered will also be included on a series of angled engraved plaques, which will be more easily readable on the side of the corten steel planter.  This will give the Memorial Area a similar look and feel to that of a war memorial – something that was requested as part of the feedback during the consultation.
 The thoughts and feelings of family members have always been of uppermost importance throughout the design process, which has been driven by the consultation conversations. It is important to note that this is not the final design, and it is subject to change, however both the Club and Barratt London feel that this is a strong basis for a fitting memorial to those who are remembered at the Garden. The Club will provide an update on the final designs at the appropriate time ahead of the Garden reopening formally.
 It is currently planned that the Memorial Garden will be replaced by a temporary area of reflection at the end of January 2020, to enable the site to be necessarily reconfigured during the redevelopment. This will mean that there is no access to the current memorial area from this point until the new Memorial Garden reopens, which is anticipated to be in 2022.
 In early January 2020, West Ham United will hold a ceremony at the existing Memorial Garden, at which the Club will carefully and respectfully collect items which have been left, to keep them safe. The Club will do everything possible to contact and reunite families with their items to understand how they would like the memorial items to be preserved.
 The Club and Barratt London are dedicated to ensuring the process of closing the existing Garden is a transparent and open. Should you have any questions in the meantime, please do not hesitate to contact the Club at Supporter Services at supporterservices@westhamunited.co.uk,and we'd welcome the opportunity to discuss the plans with you.