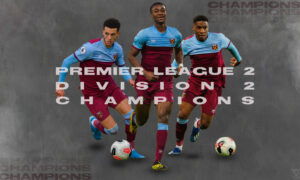 West Ham United U23s have been confirmed as the Premier League 2 Division 2 Champions for the 2019/20 season.
At the time of football's suspension, the U23s were three points clear of their closest rivals with a superior goal difference and boasted an unbeaten league campaign in which they had scored 58 goals in just 18 games. All member clubs agreed on a PPG (points per game) system to determine the final rankings, which ensured the Hammers clinched the title.
West Ham will now return to the top division of development football next season, alongside title rivals Manchester United who finished second.
U23s assistant coach Steve Potts expressed his delight that the players could now celebrate a title-winning campaign.
"We're very proud of lads!" he said."It was a great season, the fact that we've gone unbeaten is a great achievement. We talk about Development and at this age as well we often say, 'It doesn't matter about winning' but I think learning how to win is part of that.
I think the style of play is the most pleasing aspect. We always got on the front foot and took the game to the opposition. I can't remember a game where we sat back either home or away, we just tried to be the better team all round be that physically, technically or tactically and the boys have been rewarded for that."
The former Hammer of the Year believes the foundations for such an impressive season were created by the team's attitude and application.
"We had a real underlying team spirit and a feeling of togetherness, and I think at any level you can't be successful unless you have a really good team ethic. We talk about individual players doing well but for this moment it's all about the team. The group has got a really good work ethic and consistency and reliability is really at the forefront of that."
With just a month until the start of the 2020/21 campaign, Potts attention has already turned to the upcoming season.
"There won't be any easy this year!" he said. "Every game is going to be a really, really tough test and that's what you want because we're not going to get three points every week like we did last year. It's going to be real battle and hopefully we can do well."
Following promotion the U23s will now compete in a 13-team Premier League 2 Division 1 that will begin in September, where their opposition will include the likes of Chelsea U23s, Tottenham Hotspur U23s and Liverpool U23s.