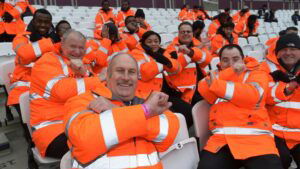 Arsenal, Brighton, Burnley, Crystal Palace, Everton, Liverpool, Manchester City, Manchester United, Spurs and Wolves have committed to pay casual match day staff even they are not working so they are not financially disadvantaged by the CoVid19 pandemic.
West Ham – along with a number of other Premier League – are not revealing their position on the issue.
The Independent asked all Premier League clubs on their position on paying match day casual staff.
From a West Ham point of view, all London Stadium safety stewards, security and catering staff are paid by the stadium owners E20 Stadium who have also yet to comment whether they will pay sub-contractors Delaware North and four stewarding companies many of which employ people on zero-hours contracts.
West Ham also employs match day staff through third party agencies for lounge and mascot hosts and programme sellers and as yet their position is unclear.
The latest financial accounts for 2019 reveal West Ham employs 110 players, coaches and backroom staff plus 212 employees in commercial and administrative.
They also employ 220 part-time employees taking the total number directly employed to 542.
West Ham has yet to confirm how many of them will be kept on or whether any of them will be furloughed in the government scheme to receive 80% of their pay.