By Sean Whetstone
The Times newspaper are this morning reporting that the death of West Ham United's co-owner David Gold is expected to hasten a full takeover of the club by fellow shareholder Daniel Kretinsky, a billionaire from the Czech Republic, once a windfall tax clause expires in March.
Gold died yesterday and his 25 per cent shareholding is expected to pass to his two daughters, Jacqueline and Vanessa, who followed him into his businesses — they are chief executive and managing director respectively of Ann Summers and Knickerbox Ltd.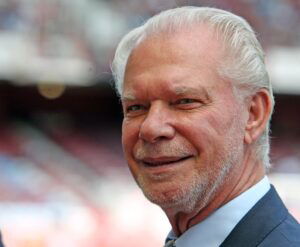 C&H understands each daughter is likely to inherit 12.5% of West Ham each and David Gold had hoped that they would carry on with his love and relationship with West Ham.
Jacqueline Gold's husband Dan Cunningham joined the West Ham board last year and we understand he will handle family business at West Ham and was part of a succession plan already in place.
Cunningham is a massive West Ham fan and passionate about the club and it is hoped that the Gold family will retain some if not all of their shares they are about to inherit from their departed father.
David Gold had spent the last twelve months getting his financial affairs in order, removing himself from Ann Summers as director and shareholder and shutting down various Gold companies.
It is too early to say what will happen in time and the Times article is purely speculative at this stage with the family struck deeply by grief.