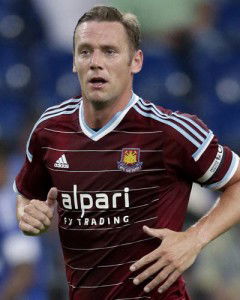 By Sean Whetstone
I was disappointed to hear Kevin Nolan was booed yet again today, a fate he has suffered several times from West Ham fans.
Just last week there was also talk of a mass walk-out and a banner of 'Nolan Out' at the Manchester United game if Sam Allardyce started him.
Despite his drop in form and his lack of goals I believe Kevin Nolan still offers something to West Ham and he proved that during the Manchester United draw.
He is also a good captain and has a major influence in the dressing room which cannot be underestimated.
One statistic doing the rounds on social media and forums recently suggested a West Ham win rate with Nolan of just 33.33% with the win rate without Nolan equaling 62.5%.
I decided to check our these unverified  statistics myself. I calculated wins, losses and draws for the whole of this current season including cup games where Kevin Nolan played 60 minutes or more.
My statistics show a win rate of 44% with Nolan and a win rate of 43% without Nolan.