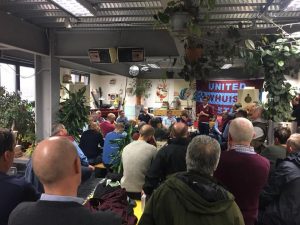 A meeting of West Ham United  Independent Supporters' Association (WHUISA) at the White Post Cafe and Bar was attended by up to 50 members on Saturday morning where they unanimously passed a vote of no confidence in the current board of West Ham United's ability to deliver the promise of  a world-class team in a world-class stadium.
Although members did not vote for a future protest march they did vote to launch a concerted "UNITED Campaign for Change" of which further details will be announced in due course.
The WHUISA committee says 'We will be in touch with our members and other West Ham fan groups for consultation.'
Members were also told about the association's participation in the recent Supporters Advisory Board as well as a meeting with the Premier League and their meeting with West Ham Co-Chairman David Sullivan.
In recent weeks WHUISA has quadrupled their paid membership to around 4,000 members.