A tribute to Mark Noble by Sean Whetstone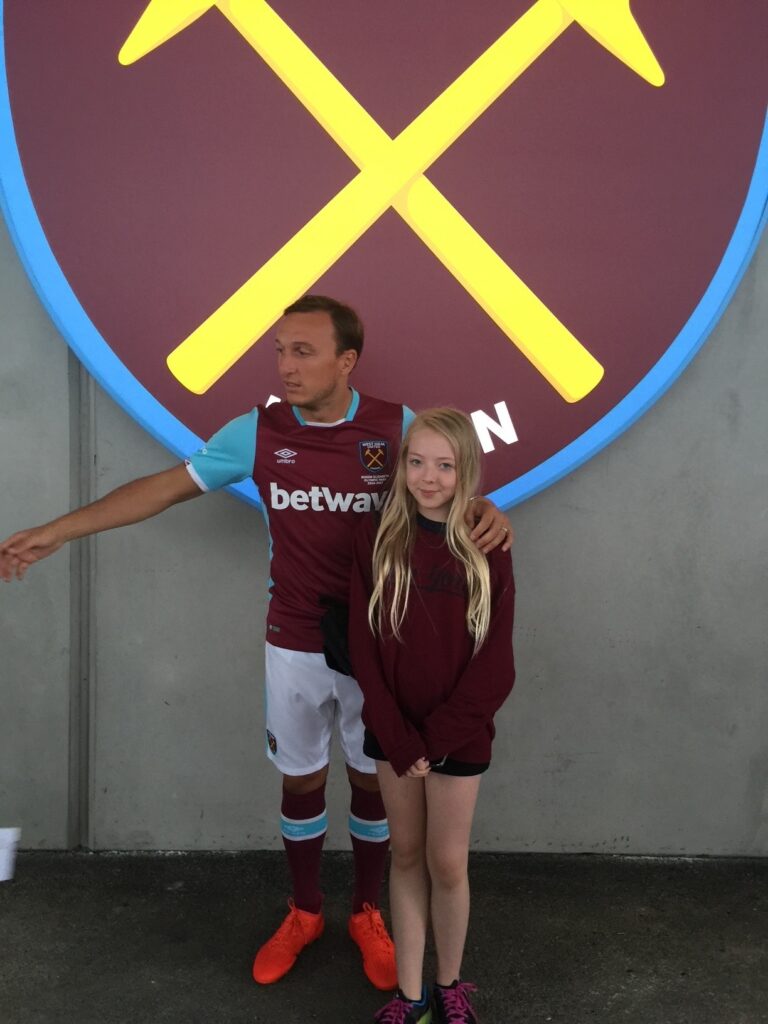 I was there for Mark Noble's debut in 2004 when he came on in a cup game at Upton Park against Southend United. My daughter (pictured above with the great man) was was just a one year old at the time and I went for a rare night cup game at the time considering my new daddy duties.
I remember Marlon Harewood scoring two goals that night although I struggle to remember a 17 year old Mark Noble coming on for Luke Chadwick in the 68th minute.
I was there again in Cardiff on 30th May 2005, when Noble played in the 2005 Championship play-off Final which saw West Ham beat Preston North End 1–0 to secure a return to the Premier League.
He had entered the game as an 82nd-minute substitute for Shaun Newton. Noble won the Young Hammer of the Year and was the runner-up to the Hammer of the Year awards despite making his debut only four months previously.  He went on to be crowned Hammer of the Year twice over two decades.
The Canning Town boy joined the Hammers when he was 11 after he was always late for Arsenal Academy training because of the distance from the East End. He supported West Ham as a boy and the rest as they say in history. In 2016, Nobes held his testimonial in front of 35,000 fans at the Boleyn Ground and what a great night it was.
I met Mark Noble just once in person at a shirt launch at the London Stadium and he was very nice to my daughter and myself taking time to speak to us and having photos taken with us.
He was very down to earth made time for all the young fans. My daughter was 13 at the time of the photo above and she is now 19!
Noble made his 548th appearance against Norwich City last Sunday and seems odds on to make that 549th this Sunday against Manchester City, there must be an outside change of him reaching 550 appearances with a final run out against Brighton away.
He is currently joined sixth in all time appearances with Jimmy Ruffell who played between 1921-1937 but I am sure he will take a top six place for himself before the season ends.
I will remember Mark Noble for his leadership and inspiration as captain, his speech on the last day of the Boleyn Ground, his superb penalty kicks, his passion for West Ham and his love of my club. It will be difficult to imagine West Ham without Mark Noble or Mr West Ham as he is known.
Although he needs a break with his family after 18 years of senior football I don't think he will stray far from the club, I am sure an ambassador role awaits him, maybe a scouting or coaching role to get his badges and who knows one day a management role back at West Ham. His son Lenny is in the Academy so it will interesting to see if he follows in his fathers footsteps.
Maybe Mark Noble as manager one day with his son as captain in the Champions League final 😉
Congratulations on hanging up your boots Mark and thank you for your service.
Loyal servants in football are rare in the modern game and we are all very proud of you.
Let's hope you received the send off you deserve on Sunday in the London Stadium as we enter a new era without you!