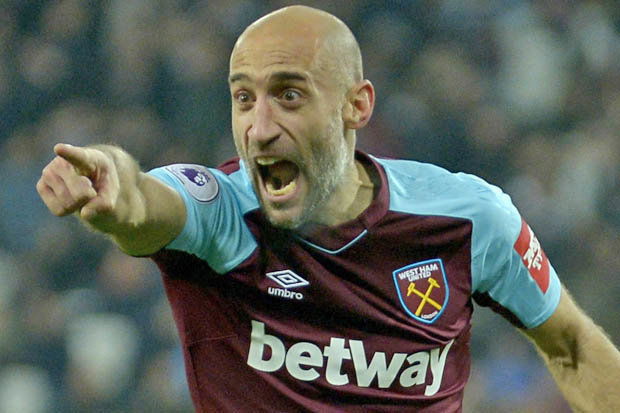 My personal admiration for Pablo Zabaleta knows no bounds and he has once again shown his total professionalism in his latest interview.
More players like him and the game would have a far better reputation in some places – no moaning and groaning, no faking injury, an honest appraisal of games and a total commitment to the team ethic.
My only sadness is that this is his last season but once again he is being honest to himself and admitting – unlike many – that he intends going out at the top rather than slithering down the leagues and even out of them to pursue what would inevitably be a sad departure from the game he has graced.
He may well be the best free signing this club has ever made – the one big success from a summer when we brought in Joe Hart and Chicahrito – and in his latest comments at  https://www.whufc.com/news/articles/2019/september/19-september/zabaleta-i-need-be-ready-every-opportunity  he explains how he is dealing with a life now mainly confined to the bench.
He says: "As a player you always want to be in the starting eleven in every game, but also when you are on the bench you have to support the players who are playing at the moment and defensively I think we've been really solid, especially in the last two games where we've kept a clean sheet.
"As I said before the start of the season, I'm pleased to see Ryan play. He's 26, he's got the energy, he's got the legs to play most of the games this season and I'll be ready to play when he needs a rest or when the manager needs me.
"Like in the last game when Arthur got sent off I was probably the only one who could come on and play as a left-back and you have to be ready for those moments. You just give your best for the team.
"This will be my last season in England, so I'm just enjoying every training session, every single minute on the pitch. There are plenty of games this season, so I need to be ready for every opportunity. The whole team has to be ready and fit.
"We had a couple of good chances in the last ten, 15 minutes of the game. Even though we went down to ten men we kept going forward and kept trying to win the game. It was a very good point, of course it was a shame we couldn't get three as we always play to win whether we're at home or away.
"It was a massive point and now we've got another big game coming on Sunday, so we need to be ready to have another good performance and hopefully a big win."
Top man Zaba
COYI