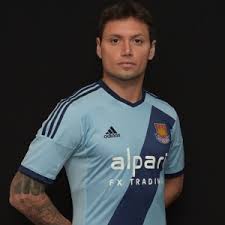 Fair play to Mauro Zarate in his first pre-match interview as a West Ham player.
Given the opportunity of addressing a few words to the fans and world at large on the official site  he appeared to send out a veiled cryptic  message on his own behalf.
After going through the familiar routine about needing to win at home and that Spurs boss Mauricio Pochettino did well at Southampton, came the little stab.
Suddenly he turned his attention to a West Ham and Spurs player who caught his eye when watching English football – Jermain Defoe.
He said: "For me, Defoe was great for Spurs, fantastic. He is small, very fast and he showed that you don't need to be big to play as a striker in England."
We don't want to make too much of it of course but given Mr Allardyce's love of a big target man the message will be  clear and understood by most fans!