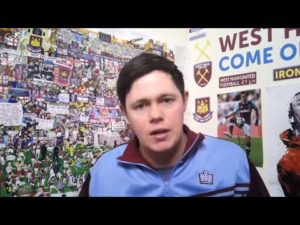 Guest post by Geo from Hammers Chat
Hammers Chat usually do something for charity every season but we hadn't done anything as the final whistle went against Watford so I (Geo) told Charlie we needed to do something and I suggested we do a 24 hour live stream as a joke, Charlie told me it was crazy but possible so 5 minutes later, we were looking at dates.
A chat with Gonzo followed by a lot of messages to people in the West Ham social media world and suddenly it is the night before we go live for 24 hours. We have 16 guests coming on at the present time.
We aimed to raise £500 and thought this potentially chaotic event would be worthwhile if we hit our target and thanks to the generosity of the West Ham fanbase and other club fans that watch our videos and wish to support the cause, we have raised just over £900 before clicking the 'start broadcast' button at 5pm on Friday.
We have been fortunate to get some amazing raffle prizes donated with a top prize of two hospitality tickets to a home game of the winners choice, subject to availability, courtesy of Betway.
Everyone knows the story of Isla Caton by now and we are just simply trying to do a little bit, like many others out there!!
24 Hour Schedule starting Friday 31st May
5pm-5.30pm – Hammers Chat
5.30pm-615pm – ExWHUEmployee  West Ham Way
6.30pm-7.15pm – Paul Colbourne/Bubbles  Hammers United
7.30pm-8.15pm – Ryan Archer  West Ham Fan TV
8.30pm-9pm Kieran Maguire Author of the Price of Football
9pm-10pm Hammers Chat
10 pm-11 pm Nicky Hawkins  West Ham Fan TV
11 pm-midnight Hammers Chat
Midnight- 1 am Dave Walker  West Ham Way Podcast
1 am-2 am – Hammers Chat
2 am-3 am – Lee American Hammers TV
3 am-4 am – Tim American Hammers TV
4 am-5 am – Wayne Dallas Hammers
5 am-8am – Hammers Chat
8 am-9 am  – David Baker Official Supporters Board
9 am-10a m – David Blackmore Blowing Bubbles
10 am-11 am – Kevin Slade Sex Drugs and Carlton Cole
11am-noon –  Hammers Chat
12-1pm –  Hammers Chat
1 pm-2 pm – Sean Whetstone  Claret and Hugh / Moore Than Just A Podcast
2 pm-3 pm – Graeme Howlett KUMB
3 pm-4 pm – The H List
4 pm-4.30 pm – Baz Cox
4.30pm-5 pm Hammers Chat & raffle