By David Hautzig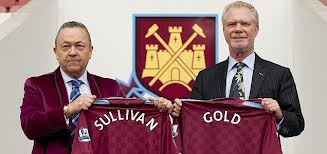 Life can be funny. Here I am, a born and raised New York City kid, completely immersed in the world of West Ham United. And no, I am not
currently enjoying myself.
Actually, I rarely enjoy myself. I generally feel only two emotions in relation to our club. Fear, and relief. Mostly fear of late.
 By writing for various sites, most recently KUMB, I've become cyber friends with some terrific people inside the inner circles of West Ham and football at large.
 Hugh Southon is one of those people. Our "chats" are 95% about the Hammers but I also like to check in on how his wife is doing after an illness  Family first, right?
So when Hugh sent me a nice message the other day about my latest piece on KUMB, he also asked if I would like to contribute to his site as well.
`Pretty hard to say no.
Hugh even suggested a topic, which was a LOT of help considering that
my brain is completely fogged over by my paying job as a wine  and
spirits salesman. That's both figurative and real if you know what I
mean. Job related "hazard".
There are a lot of differences in the way sports teams are both
operated and perceived over here as opposed to the UK. While I don't
follow my teams over here with anywhere near the fervor or mental
anguish that I suffer from West Ham, I still have a history with them.
As a kid, ice hockey was my passion. And despite living in Manhattan I
became a fan of the New York Islanders when they came into existence
in 1972. My dad met the whole team on a plane after something like
their tenth game ever, got me an autographed picture, and that was
that.
 Because of proximity, however, I had a season ticket to the New York Rangers. As an adult, I could walk to Madison Square Garden where the Rangers played. I also was a fan of the New York Mets baseball team, having a season ticket with a friend for a few years. In basketball, I was a New York purist and supported the New York Knicks.
Now. Ask me who owns those teams. Go ahead, ask.!  No f-ing clue. I had to hit Wikipedia to find out.
The New York Mets are owned by Fred Wilpon and Saul Katz, who bought
them in 2002 for $391 mil. Current value according to Forbes is about
$750 million.
Charles Wang is currently the majority owner of the New York
Islanders, of which he had become a part-owner in 2000. Now that's an
unfortunate last name if there ever was one.
As Chairman of Madison Square Garden, James Dolan supervises
day-to-day operations of its professional sports teams and regional
sports TV networks, which include MSG Network and MSG Plus. He also
serves as a governor of the Knicks and New York Rangers.
All three of these teams have spent a lot of time somewhere south of
success. There's terror of relegation and thus when things are
bad you can just shrug your shoulders and move on with your day.
But I've never looked at a sports section of a website or Twitter to see what any of those characters plan to do about it. This most certainly is not the case with David Gold and David Sullivan.
 Supporters and owners live in different parts of the universe, their paths rarely cross. Coaches and General Managers speak, and they are the ones that are held accountable. The owners usually just pay the bills.
In the EPL, it's different. But why? I turned to a friend of mine,
Derek Price. Or maybe I should think of him as the worst piece of
slime I've ever known because HE infected me with this West Ham virus
twenty something years ago. My kids think the latter.
Born and raised in East London, season ticket holder with his dad and brothers for years, he is both West Ham and England through and through.
"The thing is, from an Englishman's point of view, owning a club
isn't supposed to only be about the money. The owner is supposed to be
a custodian of the club with the best interests of the club at heart.
It isn't like that in real life all the time, what with relegation and promotion to think about. But that's how they are looked at, so supporters expect to hear from them" is how Derek put it.
And hear from them we do. And like many supporters, for better or for
worse, I read most of David Gold and Jack Sullivan's musings on
Twitter. I am not a psychologist, and my insights into human behavior
are usually wrong and get me into trouble. But I'm going to take a
crack at un-coding our "custodians".
I think in their heart of hearts they want to leave a legacy of
success at West Ham. As supporters themselves, they want to see their
club do well. It makes their weekends just like ours.
 But all human beings have a level of vanity, and the idea of being remembered as the pair that saved West Ham from financial doom and lifted them into Olympic Stadium glory has a nice ring to it. If I had the money to do it, I probably would. And for both of the reasons above.
 But they are also business people that have stuck to a particular plan throughout their business lives and they would rather flirt with relegation on a regular basis than abandon their business principles.
It's like those scenes in movies where the hero has an angel on one shoulder and a devil on the other, both pleading their case. The question is, come
January, who will they listen to?
We will find out soon enough…..because they will tell us.