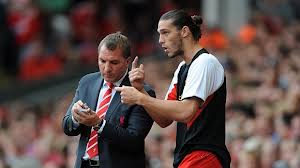 Andy Carroll, Stewart Downing and maybe even Joe Cole can send Liverpool boss  Brendan Rodgers a back to Anfield with egg all over his face on Sunday evening!
And scouser skipper Kevin Nolan also has a point to prove after being red carded in the 4-1 away defeat in December
The Kop boss couldn't wait to get rid of Big Andy to us in the summer as a result of his  play to feet policy which in fairness  has taken his team to the top of the Premier League .
There was no place in his approach  for AC and he also allowed Stewart Downing and Joe Cole to join the Hammers.
Downing accepts he has built a frightening forward line but has recalled the Kop-ites always see a trip to our place as a hard fixture.
He said: "Their forward line is frightening at the minute. The goals are coming from everywhere, but we'll make it hard for them at our place.
"When I was playing for Liverpool it was always hard against West Ham at Upton Park.
"It's going to be difficult, but a good win on Monday breeds confidence and we fancy ourselves against anyone at home."
Downing had two seasons at Liverpool and he says fellow former Reds Andy Carroll and Joe Cole are also looking forward to Sunday.
He said: ""It's nice to play against your old teams and I'm sure Andy and Joe Cole are looking forward to it.
"We're in for that top ten spot and it's tight, so we want to do ourselves and the other teams a favour."
"For us the target is to finish as high as we can, we're not just sitting happily now because we've got 37 points," he said.
"We want to get as many more points as we can before the end of the season.
"Liverpool is a big game at the weekend, we can do other teams a favour and ourselves a favour by getting into that top ten position."