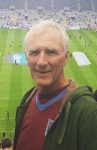 By CandH blogger Allen Cummings
CONSISTENCY!  The 11 letter word that appears to have eluded every West Ham team I can remember in my many years of supporting the Hammers.
This is no new phenomenon. It's clearly as frustrating now to the new breed of supporters, as it has always been to us older Hammers.
Even when we had the cream of English football in our side in the 60's – Moore, Hurst and Peters, and later with some of the country's finest young talent at the end of the 90's in the shape of Ferdinand, Cole, Carrick and Defoe – that word 'consistent' appeared not to be in our vocabulary.
Yes we were thrilled by some exciting football at times but equally were often embarrassed by disappointing lapses. Sound familiar?
Saturday's trip to Bournemouth was another of those days. After the euphoria of victory over Arsenal we were looking to cash in on the faltering fortunes of the Cherries. But it didn't happen. So what is it about our club? Why does the same thing keep happening over and over again? The managers change. The players change. But the unpredictability goes on.
Will it ever end? Of course no-one knows for sure but I believe under the guidance of Manuel Pellegrini we have a very real chance of getting closer to that ultimate goal of consistency than ever before.
Pellegrini has regularly insisted he is trying to instil in his players a big team mentality, a confident mindset, a belief in their own ability. He has succeeded to a degree, illustrated by the fact that after a very shaky start we now occupy a comfortable and creditable mid-table position.
But it's a work in progress, a jigsaw that still has a few pieces missing. He's having to make do with a few players who wouldn't necessarily be his first choice if others were available to him and it  now looks unlikely we'll see any new faces in the January window.
But come next summer I'd expect to see more of 'Manuel's Men' arriving and that I believe will give us a greater than ever chance of achieving our aim.
Until then of course, we have the rest of the season to see out. Hopefully 'Arniegate' can at least be laid to rest for the time being. Like it or not, we ARE a better side with him in it.
We have an excellent chance of progressing in the FA Cup. We don't have the distraction of constantly looking over our shoulder in the Premier League, with the threat of relegation never far away.
The foundation for genuine progress is already there. I fully expect Pellegrini to continue to build on that. And next season who knows – maybe that old ghost of inconsistency can finally be laid to rest!