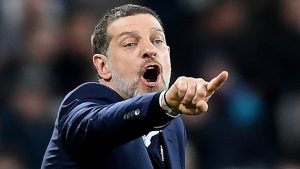 Slaven Bilic is vowing to resurrect the Hammers fortunes declaring: "I've done it before, of course, and I have to do it again."
The pressure from inside and outside the club is fiercer than it ever has been with fans right across social media calling for his head.
But he declared:  "Again, we conceded three goals so of course I feel pressure. Of course, we can say they were three away games but we have no points and we don't look good.
"I hate it [when we make mistakes] but this is a job about good times and bad times, and you have to show your quality as a manager more in the bad times than in the good times. So, we have to work very hard to come out of this situation.
"I talked to the guys after the game and I said 'Nobody can take us out of this situation but ourselves'. There is no other thing to do than to work hard, to dig in and for us to show the quality we have got on paper, on the pitch."
However, he is not looking to any late moves in the transfer market to cure his problems saying: "It's not about the transfer window," he said. "OK, we were looking for one more player, but we had done a good job on paper in the transfer window.
"We made a good squad, a squad which looked good enough to have a good season. OK, it's still early in the season, but it's not about the transfer window. It wasn't because of one player – we didn't look good as a team."
Now, there's a long wait for the team to put things right with our next game against Huddersfield at 8 pm on Monday September 11.