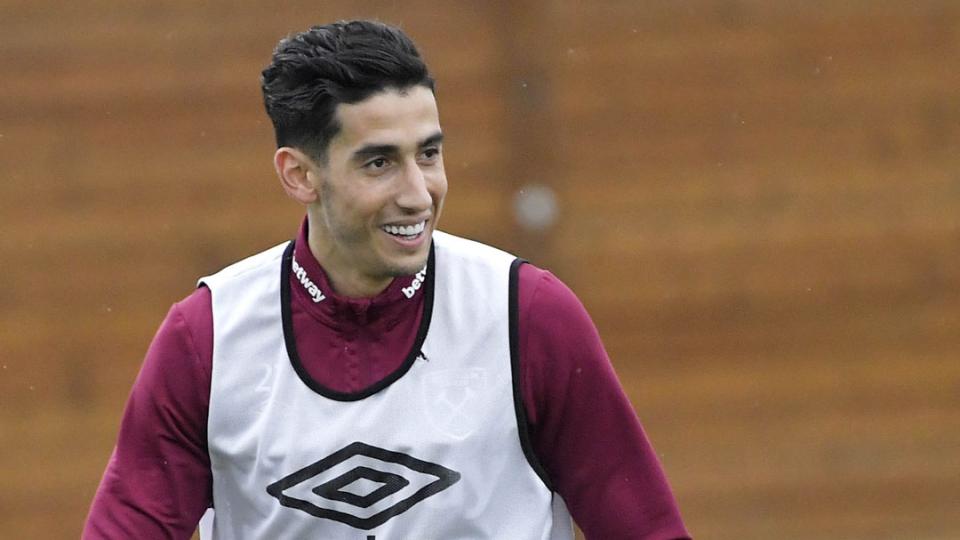 By Hughie Southon
Nayef Aguerd has finally made it all the way back from recovery road and it may be no coincidence the Hammers haven't lost the last two games with him around.
He certainly looked good in the games against Leeds and Brentford and can only improve with his injury issues receding.
It has been very bad luck for him, the manager and the squad that he has been unable to play a regular part at a time when other defensive injuries have clearly held the team back.
The Hammers' No27 speaks six different languages and, after recovering from injury and illness, is ready to translate the form he showed for Morocco at the 2022 FIFA World Cup finals into a Claret and Blue shirt.
The centre-back worked his way back in time to star for Morocco at the World Cup group stage, only to suffer a groin injury in the round of 16 win over Spain and later contracted COVID, ruling him out of the remainder of the tournament.
He is delighted and now focused on Saturday's Premier League fixture at Wolverhampton Wanderers.
Speaking to www.whufc.com he said: "I was very, very happy, especially after playing these games, typical English games, and I was also happy because we didn't lose.
Unfortunately, we didn't win against Leeds, but we had a good performance and result at Brentford, so hopefully we continue like this.
I will not say only bad things happened, because also the trust from the Club was here, which was a big move for me, and I was very happy.
Unfortunately, I had a very bad injury and was out for almost four months out of the pitch. But I came back, I worked very hard. To be honest, I wanted to play for West Ham and perform, but something we cannot control is the injury.
It has been a difficult six months, which is a lot of time, but I was lucky because it could have been worse.
I just needed to stay positive. To be honest, the first month was fairly difficult, but the Club let me go to Morocco to see my family, to stay close with my family and my friends, and that helped me a lot to come back quick and very, very strong.
I could go in my mind just play the World Cup and I played a few games before the World Cup, so I'm very happy about that.
I'm fit. I came back before Arsenal but I was not fit to play. I've lost a lot of weight because of the COVID and I was speaking also with the manager and told him like I'm not fit to play a Premier League game. I worked a lot these last few weeks and now I'm fit.
And on the game at Molineux he said: "I want to say even if we win at Wolves, then we lose another game, it is not what we want, so we need to be focused on every game and to take a maximum of points.
We go there with our personality to try to win. It will not be easy, like every game in the Premier League, but we'll give our best to bring the three points.
We said before the Brentford game, 'we need a win to lift our confidence, because it is low'. It's very important because we have young players in the squad, so the win was fantastic and there were some smiles in the changing room after the game.
It's good to have a win, especially because we are in a bad situation. We need to play like we did against Brentford, like every game is a final."