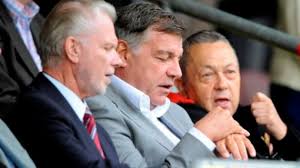 Manager Sam Allardyce appears to believe that whatever befalls the Hammers they are now safe from the drop!
And he admits that the outpouring of criticism against him earlier in the season was "usual and expected" as the club hit a dismal run of form.
He declared that the "Allardyce has to go, the players aren't passionate enough, they're not fit enough, etc" was simply par for the course
However, despite impressing on the players that they are not safe, the manager declared: I think that even if we hit another bad spell, we should be capable of racking up as many points as there are games left, which is 10.
"That would give us 41, which should be more than enough. We want to reach safety as quickly as we can and then see how far we can go."
The challenge he said was to get as close to the 46 points the club managed last season.
He said: In the meantime, you can tell how twitchy it's becoming as we approach the final run-in, with speculation that some clubs are considering changing their manager for the third time during the season.