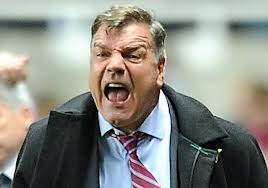 Should – by some awful quirk of fate – Sam Allardyce not be sacked at tomorrow's board meeting – West Ham can forget all hopes of signing a quality striker this summer!
Sixteen games and two goals on, Andy Carroll continues to command a position up front whenever he is fit, demonstrating very ably indeed why no other front man wanted to join the Hammers last summer.
And in turn that's why BFS eventually blew the £5 million he had left of his budget on the dubious talents of Stewart Downing.
The manager went for Salomon Kalou when failing in the move for Demba Ba. He immediately said thanks but no thanks because he couldn't see himself getting past £16 million AC and wanted to play in World Cup qualification year.
Now – all these months on – the marquee signing of last summer is on his way to a Dubai holiday after finding himself edged out of  the World Cup squad by a bloke seven years his senior – Rickie Lambert.
As we anticipate, before awaiting  the outcome of tomorrow's showdown meeting between manager and board, one thing is certain, there is much to fear.
For should the correct sacking decision not be made over Allardyce we will be relying on AC for yet another season – or even more – without any chance of attracting a quality back-up player.
A ClaretandHugh source told us exclusively tonight: " You reported totally accurately that the big issue on tomorrow's agenda is Allardyce's relationship with the fans – or the lack of one!
"But actually it's entirely impossible to see how he can save his position on that front. It's all gone too far now.
"But if the board bottle the decision to get rid of him  the squad will remain s unbalanced and thin next season as it is now.  No decent striker will come to the club.
"Allardyce has made Carroll a total untouchable and sent out the worst possible message to the world's strikers.
"West Ham is of no attraction at all to them because they know that if Carroll's fit they simply won't play.
"For the sake of everybody at this club and the rebuilding of the squad there's only one sensible decision the club can make – get rid of Allardyce.
"If they don't, this squad of players will take them down next season – they just aren't good enough and two goals from a £16 million striker shows you jus how wrong Allardyce has got it."