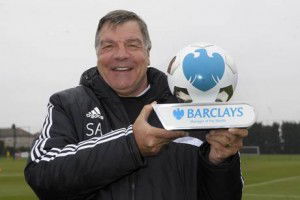 Sam Allardyce reckons Manchester United are always at their most dangerous when they are not at their best!
And he warned that many believe the side is currently better away from Old Trafford citing the game against WBA as an example when the champions won 3-0.
Speaking ahead of our game on Saturday evening, manager of the month Sam said: "There's  a lot of people saying Manchester United are playing better football away from home  because there's not quite so much pressure on them.
"I think it's going to be a difficult game with the talent they've got. They can always come out and deliver at any specific time."
He's not impressed with the dismissive arguments about them this season adding: " Manchester United deal with these things year in, year out, and Manchester United players know exactly what's expected of them. They've got their own standards.
"I think they're always very dangerous when they're not doing as well as they should.
"This is not the manager that I'm talking about, this is the players saying 'I'm letting myself down, my team down, my manager and the fans down. We're Manchester United let's go and do something about it."
The Irons have no further injury worries with only Joey O'Brien and Marco Borriello unavailable.