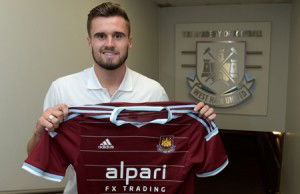 15 year old Young Supporters Chairman Jack Sullivan has revealed a new signing will be announced on Monday or Tuesday next week.
Speaking on his twitter account Young Jack posted "We expect another signing Monday or Tuesday!! Exciting time"
That signing is thought to be Carl Jenkinson on a season loan. Earlier this week Arsenal left Carl Jenkinson out of their squad for a pre-season trip to Singapore. Jenks spent last season at West Ham and became a firm favourite with the fans, making a total of 32 appearances for the Hammers.
The right back has three years remaining on his current Emirates deal, The England Under-21 star, who returns from his holiday in Cyprus this weekend, has also been linked with Sunderland, Southampton and Everton in recent weeks but it appears the Hammer have won their man back.