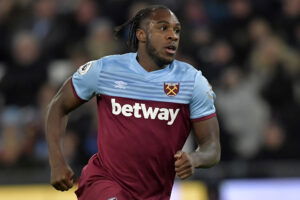 Michail Antonio has reportedly vowed to finish his football career as a Hammer after entering the final year of his contract with West Ham. The 30-year-old striker is determined to sign a new contract which would see out the rest of his career at the club according to The Athletic.
Antonio signed for West Ham for around £7 million  from Nottingham Forest on a four-year contract with an option for a further two years in September 2015
He made his debut on 19 September 2015, replacing Victor Moses in the 60th minute of West Ham's 2–1 Premier League win at Manchester City. In a Man of the match performance on 28 December 2015 in a 2–1 win, Antonio scored his first goal for West Ham. With the team losing 1–0 to Southampton, Antonio equalised when a clearance hit him and looped over Southampton goalkeeper.
In July 2016, Antonio signed a new, four-year contract with West Ham. For his performances during the 2016–17 season, Antonio was named Hammer of the Year and on 11 May 2017, West Ham announced that Antonio had signed a new, four-year contract taking him to June 2021.
Antonio scored the first goal by a visiting player at the new Spurs Hotspur Stadium, on 27 April 2019, as West Ham won 1–0, becoming the first away team to win at the stadium.
Now aged thirty maybe Antonio is hoping to sign a new four-year contract with West Ham to enable him to retire as a Hammer.