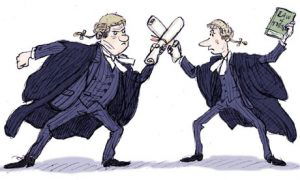 West Ham were at the Court of appeal yesterday in a last-ditch attempt to get three judges to force Stadium owners E20 to disclose six crucial Email documents which they claim are highly relevant to the capacity court case which is scheduled to start on Monday.
The  leading Judge explained at the start of the appeal: "It is claimed by West Ham that the agreement with E20 intends an obligation of good faith in relation increase in seating and what should be done to secure that and you wish to look at these documents as may shed some light on good faith " 
West Ham's barrister explained to the three appeal judges that up to February 2017 stadium owners E20 were talking about 'Expert Determination' to resolve the capacity dispute at the London Stadium but that changed and litigation was pursued instead.
The court heard that E20 director Alan Skewis emailed stadium decision makers on 25th January 2017 saying "We will have an off-radar discussion"
E20 have so far refused to disclose email exchanges made five days after Mr Skewis's email between those same decision makers claiming legal privilege but West Ham's legal team claim those six documents are in their opinion the 'off radar discussion' which they believe is crucial to their legal case and should be disclosed.