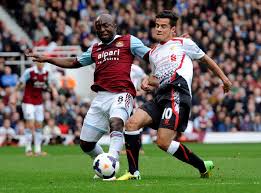 The Irons  are set to send left back Pablo Armero back to Napoli at the end of the season.
The club  had been thought keen to look for a permanent deal for the Colombian international at a fee of around £3 million.
But were Sam Allardyce to remain as manager – which is currently very much in the balance – Armero now looks set for a return to his parent club.
The left back position has been troublesome for some time and Armero had been 'talked up' by insiders at the club as the likely answer to problem.
But after giving away a penalty in the defeat against Crystal Palace and failing to impress in previous outings, interest has cooled considerably.
A source said that the players had  not proved  to be the answer adding that there were big question marks  over his defensive abilities."