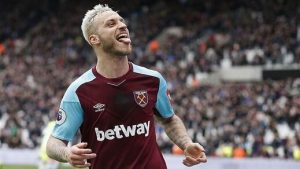 Marko Arnautovic has denied his goal celebration was aimed at Southampton manager Mark Hughes who once managed him at Stoke.
Arnie told reporters 'I respect Mark Hughes and what he's done for me, but I heard some things when he was talking about me and they were not good things, I don't care what he says – I perform on the pitch and I try to let my feet do the talking.
'Of course I'm grateful what he did for me at Stoke when he was my coach, but if he wants to say bad things about me, that's up to him,' 
Arnie appeared to mouth something to Hughes just moments before half-time but Moyes said: 'I had a word with Marko, I just wanted him to get a hat-trick if he could. 'I just wanted him to keep at it. Get the third goal and make sure you don't do anything (wrong), just do your job. 
'If he's got any problems (with Hughes) then we weren't thinking about them, that's for sure.' 
Hughes, asked about Arnautovic's reaction, said: 'I've been told about this but I wasn't aware he was shouting anything.'