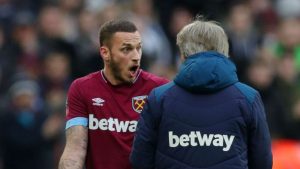 Marko Arnautovic's final West Ham countdown looks to be presenting the sort of problems with which us fans and the club have become so used to from the striker.
There could be a problematical departure  for the Austrian  and once again it will be down to MONEY as the 30 year old tries to iron out his personal terms with the Chinese.
ClaretandHugh learned this evening that hopes of clearing him out before or over the weekend depend on him coming to an agreement with Shanghai and if he doesnt he and the squad could be confronting each other at teh Swiss training camp.
The club are desperate to see him gone before Monday when he would have to link up with the pre-season training should he still  be on the staff.
The club have accepted a straight deal of €25 million for him  from China and despite widespread speculation, there are no add ons involved.
We were told by a senior source on e mail: "Yes, it's €25m euros and no add ons.  And, he still has to agree terms in China."