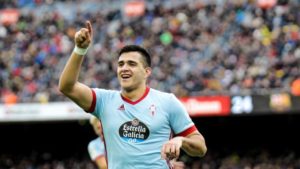 Strong speculation  the Hammers have lost out in the race for Maxi Gomez and that the striker is to be unveiled as a Valencia player have proved unfounded.
In fact, the Celta Vigo striker is in his home country of Uruguay as he takes his summer break following his involvement in Copa America.
He is still being strongly tipped to opt for the La Liga outfit but the Irons arechasing hard in the hope that he will have a change of heart on his desire to remain in Spain.
The Valencia press in particular are insisting that he has all but agreed to a deal with the club but there remains the hope he can be convinced he will better off in the Premier League where the club could offer him in the region of £100k a week.
The Irons have known for some time he enjoys the Spanish lifestyle but have refused to give up hope that he can be persuaded by his agents The Stellar Group to opt for the PL as his best career move and they are now working hard on the situation.
CandH were told by our senior Hammers source on e mail: "We might lose out but it's 50/50. However, he won't be unveiled by Valencia in the next 24 hours as he's still in Uruguay."