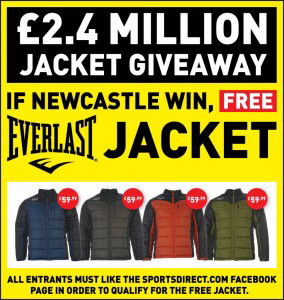 Mike Ashley has been forced to honour a pledge of giving away £2.4m of free jackets from his company Sports Direct after Newcastle beat West Ham this afternoon.  Some Newcastle and West Ham fans have complained that small print has limited the offer to the first 45,000 entries plus a £5 delivery charge so Sports Directs have been forced to give £10 vouchers to those who did not win a jacket. Others have complained they have been duped after the supposedly £60 jacket is available for just £6 on Everlast's UK website.
Newcastle's official twitter account embarrassingly tweeted out the offer ahead of the game.
Sportsdirect said after the 2-1 victory "CONGRATULATIONS to Newcastle United and to the lucky winners of the FREE Everlast jacket! We just want to clarify the NUFC comp, we had 45,000 jackets to give away, if more people registered than that (which there was!) then we would take it to a lottery draw."
Some winners of the jackets have complained of a £4.99 delivery charge or that most colours and larger sizes of the jackets are already out of stock on the website. Sports Direct have recently announced this evening: "BREAKING NEWS – because of the amazing response to our jacket giveaway, we have decided that no one should go empty-handed. Those that were not successful in the lottery draw for the free jacket will be sent a £10 voucher to be used online or in-store, within the next 48 hours via email!!! 💰💰💰"
Maybe David Sullivan should have offered 45,000 box sets of Rise of the Krays and Fall of the Krays if West Ham beat Newcastle.