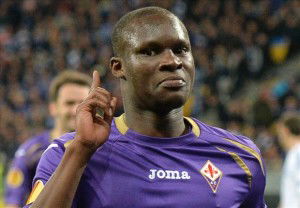 According to reports in Italy, West  Ham have identified Fiorentina's Khouma Babacar as a backup plan B  in case they can't sign AC Milan's Carlos Bacca in the nest week.
Yesterday transcripts of an interview by Bacca this week suggests he wants Champions League football which West Ham can't give him. Today fresh stories emerged that Arsenal may enter the race to snatch Bacca away at the moment have been published widely.
Sky Italia's Gianluca Di Marzio  says, if West Ham can't secure Bacca's signature, they will turn their attention to Babacar. The Senegalese striker has been on the books with Fiorentina since signing from Pescara as a teenager back in 2008, but has only recently established himself as a first-team player with the Serie A side.  After 20 goals on loan at Modena during the 2013-14 season, Babacar scored nine goals in 28 appearances for Fiorentina in the 2014-15 campaign, but scored only seven times last season.