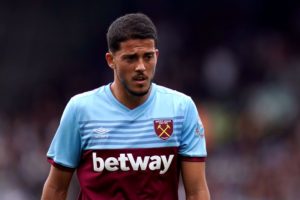 If I had to pick a favourite interview of the week it would certainly be the one that Pablo Fornals gave to the official site in explaining that he has enjoyed " a nice season."
But that doesn't really tell the tale at all. Everybody loves a scrapper – Robert Snodgrass was one of those who turned the fans around in his favour after being expected to replace Dimi Payet set piece expert.
And like Snoddy the young Spaniard has had a real battle on his hands and was pushed right into the background as the new manager not unnaturally looked towards Anderson and Lanzini on his arrival.
When that didn't work out he turned to Fornals who eventually made a surprsing 40 appearances for four goals but despite that passed under the radar to a large extent and was regularly subbed.
But his form on the resumption was outstanding – ok he will never be a big eye  catcher but his work rate and energy can't be faulted and he was having more and more of an impact as the season came to an end with the club safe in the Premier League.
He proclaimed: Personally, I will look back at my first year at West Ham [and it was] very good because it is not easy to come from another country. Everybody knows the difference in intensity between La Liga and the Premier League, so i think for me it was a very nice season.
"I played a lot – that's why I came here, to play, to try to help West Ham and I am very happy."
The boy's a battler and leaves nothing on the pitch and that's all most of us ask for or expect!