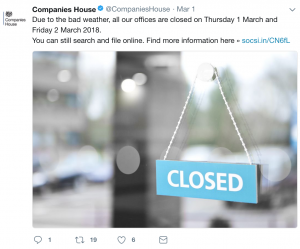 The Beast from the East has delayed the publication of West Ham's financial results for last season.  West Ham filed their statutory accounts on the last day of the deadline (Wednesday 28th February) but Companies House closed their offices the very next day because of snow and weather conditions on Thursday and Friday. The backlog will start to be processed on Monday when office workers return to Companies house but we might not see the accounts visible online until the middle of next week.
West Ham is expected to announce record turnover of around £180m and record profits as a result of the new TV deal which came into force last season. It will also be the first time financial accounts are released since moving to the London Stadium and clearing of external bank debts.
West Ham's parent company is called WH Holding Limited and when published online the accounts will be available to view to anyone for free at https://beta.companieshouse.gov.uk/company/05993863/filing-history
Claret and Hugh will bring you the latest news of the financial accounts with analysis and explanation when published next week.