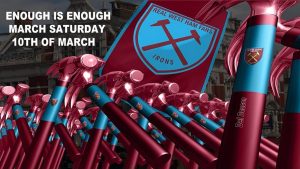 A Claret and Hugh poll on whether the Real West Ham Fans Action Group were right to cancel the planned march has split the fanbase.
Over 1,200 supporters took part in yesterday's poll with almost 53.5% (645) saying RWHAG were wrong to cancel the march.
That means over 46.5% (561) believe RWHAG did the right thing in calling off the protest march after dialogue with the West Ham board and a promise that Islas fund receives a matched donation of £20,000 from the club.
Confusion remains whether a march will take place or not next Saturday before the Hammers game against Burnley under new organisers. WHUSIA along with other groups are in dialogue with Met Police and Newham council and a fresh application is required by tomorrow under a six-day rule. One possibility being suggested by Met police is a static demonstration by West Ham disgruntled supporters on the south lawn where the original RWHAG was due to finish.