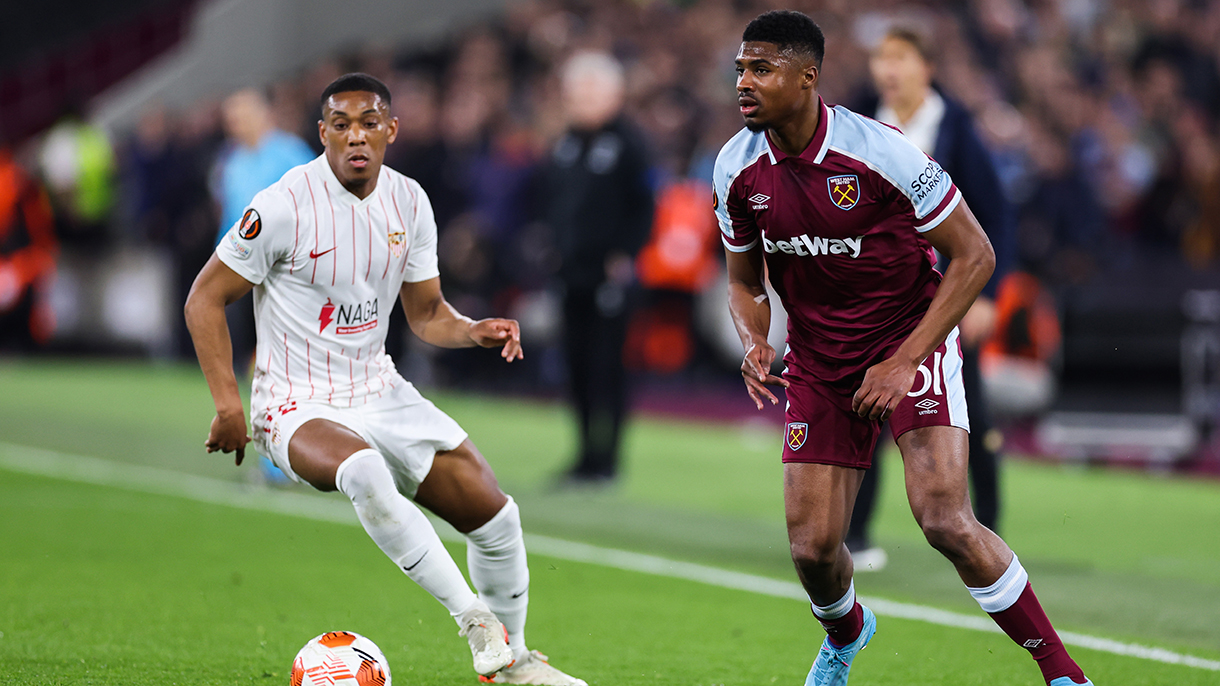 Ben Johnson wants Hammers fans to know the squad fears absolutely nobody in the world right now!
Be at Sevilla, Tottenham Hotspur, ,maybe Barcelona or anybody else the Hammers will carry on playing their football and let everyone else worry about them.
After the amazing events of Thursday evening anything is possible but it's heads down and Spurs this afternoon- a hugely important game at any time but withe respective league positions as they are more critical now than in a long time.
As Ben points out you know exactly what you are in the league but since the defeat old Sevilla the boys know they are on precisely the same level as every other team.
Spurs  will be the first team to meet us since the boys realised exactly that and with the spirit in this squad as it is we could easily be three points clear of them later today.
Ben said: "Tottenham have got some terrific players like [Harry] Kane and [Heung-Min] Son, and [Dejan] Kulusevski coming in, so it's going to be a tough game, but we're looking forward to it. 
We're going to be analysing them and seeing what we can do and seeing what we can bring  and of course it's a huge game that means a lot to us players and fans, so we're going to give it our all out there as we did in the return game earlier in the season when we won 1-0. 
Of course, we've got an international break then, so after that, we'll focus on playing Lyon. We're very confident and we just want to do the fans proud. 
Every game we've got – however many we've got left – it's going to be a great end to the season for everyone involved for the Club.
The noise was on a different level. I think there was just that excitement, that apprehension, and everyone was just so expectant. Everyone felt like as you do when you're a boy when you start watching football. 
Even us playing… not many of us have played on this stage. Of course, you've got Dec [Rice], who's played in huge games, but not many of us have played in games like that, and against a team who were probably favourites for the whole tournament. It was special. 
The fans gave us that edge. As you could see in the last 30 minutes of extra-time, everyone was still going. Everyone still had some sort of energy in them, and that's to do with the fans roaring us on, and when Pablo [Fornals] cut inside and Yarmo slotted it in.. that feeling!
With the atmosphere, we always felt like they were on the back foot, and our press was really good. They couldn't get any opportunities as they did in the first leg when their wide men were quite influential. On Thursday they weren't, and I felt it was a credit to the back four and everyone.
Watching the quarter-final and semi-final draw earlier, as every West Ham fan did, on paper we've got to beat Lyon first, and if we win that, we play Barcelona or Eintracht Frankfurt. 
We're at the level now where all the teams are as good as each other, and on your day you can beat them. As you saw on Thursday, we're as good as those teams. 
Of course, they play differently, but we're not going to be worrying about any other team – we're just going to play our football and that's how it's got to be. I don't think we're worried about anyone else – we're more excited to play them, really. 
Why not think that we can win it? We are good enough and I think we've shown over the last couple of seasons that we can lock horns with the best players and the best teams in the league, and win the Europa League, because we deserve to be there with the way we play.