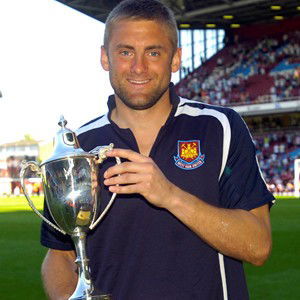 I give all the respect in the world to former Hammers stopper Robert Green.
I've always been a fan of Greeno and he didn't let my faith in him down on Sunday.
The minute he appeared from the tunnel he made a point of clapping the Hammers fans – who were happy to return the applause.
And he then made a crossed Hammers sign with his arms to fans in the Bobby Moore stand before the start of the game.
He got a similar response in the Sir Trevor Brooking Stand when swapping  ends at half time.  The fans sung 'Greeno, Greeno, what's the score?' with the Irons two nil up.
Greeno acknowledged the banter by lifting up his hand then a thumb to show he saw the funny side of a song we sung to him as a Hammer when we were beating another team comfortably. In the past he would make a motion for us to calm down and don't tempt fate when we were 3-0 up.
Being honest he seemed the only member of the QPR  team to be bothered bothered they had conceded two goals . To be perfectly honest his team were by far the worst  I have seen play at the Boleyn in the last five years.
Towards the end of the game Hammers fans baited him with chances of: 'You only went for the money, went for the money!"
At that point during a break in play he turned round to the fans and pointed to himself saying are you talking about me? He then shoke his finger to them as if to gesture: "No I didn't leave for the money, not me."
He again showed respect at the end of the match making the hammers crossed arms sign to Hammers fans in the Sir Trevor Brooking lower before throwing his shirt into the crowd for some young supporters. There were cries of 'Greeno, Greeno, Greeno' as he left the pitch.
Robert Green was thought to have earned £40,000 per week at West Ham and was offered £45,000 per week to stay. He eventually signed a deal with QPR said to be worth £50,000 per week.