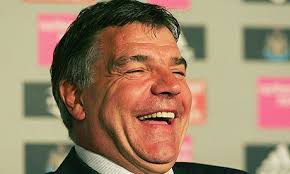 West Ham fans remain uncertain whether Sam Allardyce should stay as the club's manager.
But the good news for the 59 year old boss is that things are much brighter for him now than they were at the end of last season.
A poll put together by every independent Irons website showed at that time over two thirds of voters wanting him gone.
Now an exclusive ClaretandHugh poll, which closed an hour ago, shows that although the tide may be turning in his favour, he has a long way to go to win them over completely.
A total of 1,119 voted thus making it an acceptable yardstick to poll company Mori. Those voting for him to stay permanently totaled 516 (46.02 per cent).
A total of 208 (18.59 per cent) voted for him to go now with 396 (35.39 per cent) saying his position should be reviewed in January.
ClaretandHugh founding editor Hugh Southon said: "We wanted to run a poll at the best moment of his recent time in charge rather than at the worst -as was the case last year.
"It's better news for Sam but the result certainly isn't conclusive in his favour despite the team sitting in seventh place and having won two of the last three games and playing really well in defeat at Old Trafford."