By Max Willow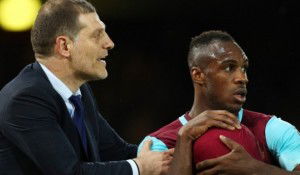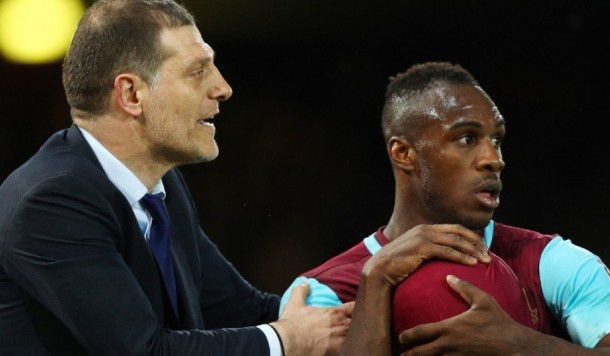 Suffice to say that we are all very disappointed by the outcome of last Saturday's game against Crystal Palace.
Once again, Slaven Bilic made numerous tactical errors in this game, but I don't wish to harp on those problems in this blog.
Most fans will remember the two outstanding goals, scored by Chicharito and Ayew. However, much attention has been centred on Palace's last gasp goal.
Furthermore, most fans and pundits have been quick to place the blame on Antonio's defensive error, which ultimately allowed Zaha to score a goal which could have been easily avoided. Withn hours, the media was awash with an apparent witch hunt directed against Michail Antonio with Bilic the main instigator.
But let's look closer to decide the real villain of the piece.. For the best part of the week leading up to the game, Bilic had publicly expressed his own concern on Antonio's fitness. He was even more specific, saying any decision on Antonio's participation, would come down to the match-day itself.
In a situation where there is so much uncertainty concerning a player's ability to play, sound thinking suggests that a conservative approach should be taken, unless the circumstances are so vital (such as an FA Cup Final or a place in the top 6 of the EPL etc.) it warrants the gamble.
Even prior to Antonio's 62nd minute entry into the game, it was clear from the side lines (from his inhibited running and facial demeanour), that all was not well-the man was clearly still in considerable pain from his recent rib injuries.
As soon as he took his place on the field, those concerns became blatantly obvious; he was unable to sprint or accelerate, and even found problems in using his upper-body strength to win one-on-one encounters.
So should Bilic have played Antonio in the first place- NO! He had the option of inducting three 'in-form' U-23 players into the first team squad, who could have played in the right wing back or right back position; Nathan Holland, Sead Haksabanovic, or Martin Samuelsen, (who could have actually improved the state of the game when Pablo Zabaleta was substituted).
Rather than admitting his own role in a game which made no-one particularly happy, Bilic took the cowardly approach in finding a scapegoat for a mistake made by a player who normally gives 100 per cent to his club and team-mates.
If Bilic had any comments to make, he should have done it in private, rather than going public and inciting the disappointment that we were all feeling. All of a sudden, our fan-base turned on Antonio.  
Were these the actions of a man who is supposedly characterized for his kindness, decency, and sincerity? Hardly…
If Bilic has an ounce of insight for this disgusting, insulting outburst on an injured player, then he should act quickly and ask for Antonio's forgiveness. Really Slav, not good enough for an EPL manager!!
The views expressed here are those of the individual blogger and are not necessarily shared by ClaretandHugh