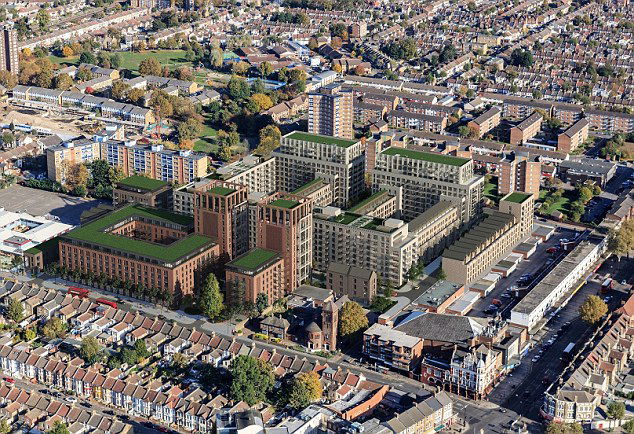 842 homes will be built on the Boleyn Ground, with 18 buildings ranging from three to 13-storeys. The site, which will be renamed Upton Gardens, will also feature a nod to the Hammers, with a 'legacy route' planned which will celebrate the history of the  Boleyn ground.  A paved, circular courtyard will mark the centre circle while tower gatehouses on will sit in the same position as the yellow turrets of the original stadium entrance.
Pam Reardon, sales director at Barratt London, said: 'A great deal of thought has gone into the design of Upton Gardens to ensure the legacy of the site, with its historical significance and importance to West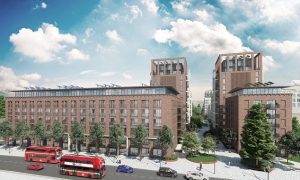 Ham Football Club, is preserved.  'We are confident that the Legacy Route will ensure the spirit of the site lives on and we have taken care to retain the memorial garden for those commemorating loved ones affiliated with West Ham United.
'Newham is an area undergoing a huge amount of regeneration and there is still a great deal going on so this represents a viable investment opportunity as well as a great location for owner occupiers.
'The development has excellent connections into central London, and we expect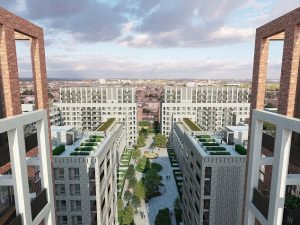 strong interest from commuters looking for good value and a fast route to work. We believe the development's proximity to Stratford and its amenities will also appeal.'
Prices will start at £350,000 for a one-bedroom apartment. Although prices have not been released for the four bedroom apartments I wouldn't be surprised if prices of £1,000,000 plus are quoted when finally  revealed. By comparison a one bed flat in Green Street can be purchased as cheap as #138,000 with a four bedroom terraced house in the area fetching around £500,000.