by Hugh Southon
Bill Bonds is standing by his season long view that the H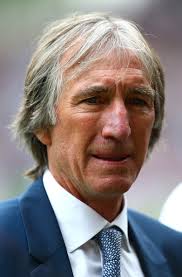 ammers need have no fear of relegation!
The bucaneering former full back, club manager and first recipient of the Lifetime Achievement Award sent out his message ahead of tonight's (Tues) game against Norwich City.
Bonzo – speaking exclusively to Claretand Hugh declared: "When the club was at its worst point I said no way will they be relegated and I stick by that.
"I believe what happened at Stamford Bridge was t he turning point. I'm a defender and know you have to get lucky to survive that sort of battering.
"That they did so and have scored back to back wins since tells me everything – they have turned the corner and will be fine. I'm sure.
"There's been a whole shed load of criticism of Sam Allardyce and he plays a different game to the one I was brought up on but I think he has the dressing room sorted out and they are playing for him.
"I have never had any question in my mind that they will survive and a win against Norwich will be massive.
"It is going to be very tight indeed and I wouldn't want to gamble on it but if I'm really pushed I think we will just about sneak it."