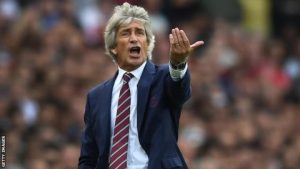 They love to tell you the bookies are never wrong and that money talks!
WRONG!
Do you recall the odds against Manuel Pellegrini being the first manager to leave the Premier League a couple of weeks back. He was 3/1.
It was never a bet and made no sense whatsoever as is now being demonstrated by Unibet who have him priced at 20/1 to suffer such a fate.
So no axing for Pelle but the guy into whose team the Hammers put the boot is in serious trouble with the firm.
They have slashed their prices on Mourinho being the first to leave  again, following the 3-1 loss to West Ham.
The Portuguese not so special one is priced at 11/10 to lose his job.
The odds have shortened probably as a result of United's poor results continuing  coupled with an upturn in form at other sides.