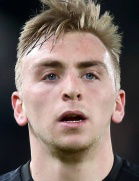 West Ham are expecting talks for Hull City winger Jarrod Bowen to go right down to the deadline day final hours.
With the window still open until 11pm, talk of the deals stalling is being reported by Sky but we can confirm the negotiations are continuing.
Bowen is keen to join the Hammers and talks on personal terms are the issue under discussion. Given our current   situation it doesn't appear to be a situation the club can afford to let slip.
And a source inside the club told us that they were ready for a long few hours as they bid to get the deal done declaring: "Expect this one to go into the evening and down to the wire as they like to say."
The 23 year old was reported as being on  £60k at Hull which can't be right and the problem – according to TalkSport –  appears to be the Hammers want to insert a relegation clause which – like all other squad players – would see his wages cut by 50 per cent should we go down.