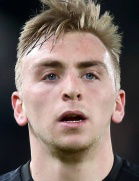 By Hugh Southon
I've had one player on my mind since January 1 – Jarrod Bowen!
He was first brought to my attention by a top mate and Hull Ciy fan/season ticket holder of the last 20 years and this  morning he rang in despair with the 23 year old in talks to become a Hammer.
My only reaction, having waited until the 31st of the month, is that he'd better and the last I heard earlier while on my way back from a short break was that it was 50-50 which is 30 per cent up from last night.
With 22 goals in all competitions this season and 15 last term, this is a player whom I believe the Irons need above anyone else mentioned previously.
We need goals and we need power in midfield and with Tomas Soucek on board and  Bowen hopefully very close, my view is that pair would give us exactly what we need in an offensive sense.
It would have been great to get a right back too in but with Jeremy Ngakia performing well in a tough baptism against Liverpool, things don't look TOO bad with Ryan Fredericks due back in a couple of weeks hopefully.
It's gonna be a long day waiting for Bowen – pray it happens!