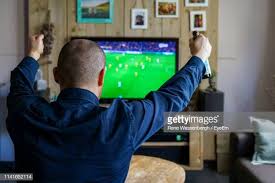 BT Sport are reportedly considering making their Bundesliga matches available for all to view ahead of the competition's return next Saturday.
With the German government having given the go ahead for their top division to return on may 16, BT Sport could be the first off the mark to show games on TV for the first time since early March.
With exclusive rights to the League, the broadcaster may well show the games on a  free to air basis  with the Saturday blackout rule lifted.
Olivier Dowden, the Secretary of State for Digital, Culture, Media & Sport, said in April: 'I have said to the Premier League it wouldn't send the best signal if they were one of the first major sports to resume behind closed doors and the public at large couldn't have access to it.'
There are nine games left in the Bundesliga, with current champions Bayern Munich currently holding a four-point lead from Borussia Dortmund at the top of the table.