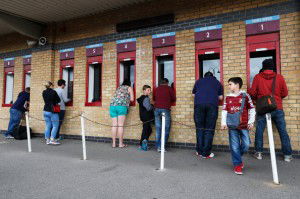 Although the recent BBC Sport study on ticket shows West Ham has the second most expensive ticket in the Premier League at £95 it has been taken out of context of the overall Hammers ticket strategy.
The £95 ticket price tag is for one-off tickets for the most popular games in the best possible seats, so it doesn't tell the full story of ticket pricing at West Ham.
Season ticket holders like myself in the cheapest band 4 category currently pay £651 for 19 home matches which works out at £34.26 per game for an adult which includes those popular category A games. A family of four with two children under 10 will pay £1,522 per season this year or an average of £20 per game per family member.
When we move to the Olympic Stadium nest season a new cheaper band 5 will sell adult tickets for £289 per season which will work out £15.21 per game.  A family of four with two children under 16 could buy four season tickets for a total of £776 per year meaning the average per family member would be just £10.25 per game which would make football truly affordable.
It is worth remembering this added facts when the headlines of the most expensive tickets are targeted against the Hammers.
I think the board are doing their bit for making football affordable. However there will always be a premium to pay for the best games in the best seats especially when they sold as a one off purchase.
We must also remember that any money we make from ticket sales goes to pay for players transfers and paying down the debt.  It doesn't end up in the pockets of some greedy share holders.