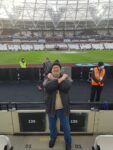 Exclusive by Hughie Southon
West Ham are not preparing a new offer for Jesse Lingard aa the moment!
We ran a story reported by the Mail earlier this evening (Sat) which claimed we were close to sealing a deal to bring him to the club on a free transfer,
And the Mail claimed that after talks we were now preparing a new offer which would be made to him in the near future.
The truth appears to be somewhat different following CandH immediately asking questions of a key source at the London Stadium.
It appears that YES there are discussions going on but nothing more than that which means that any offer we may have made stands – not that a new one has or will be made to the 29 year old attacking midfielder.
The last we heard as far as figures were concerned was that he wanted £180k a week – £20k less than Declan was offered when refusing to sign a new deal. That ain't gonna happen!
And this evening we were told by our insider: "There are discussions going on with Lingard but nothing more than that – no offers."